RACV Green Light Approved Dealer
RACV Green Light Approved Dealer

We understand that buying a used vehicle is a major decision and it can sometimes be stressful.
For various reasons you may not be able to attend a Dealership and inspect or test drive a vehicle personally. Maybe you are interstate, work long hours, have a very busy schedule or you just want a second opinion. An independent inspection can offer the peace of mind you are looking for. With this in mind we are pleased to announced that we have become a member of RACV's Green Light Dealer Network.
What does this mean?
This means your vehicle can be independently tested by an RACV professional tester and you will receive their comprehensive Green Light vehicle test report.
We can arrange all of this for you.
Just contact one of our Sales Team to discuss.
RACV Warranty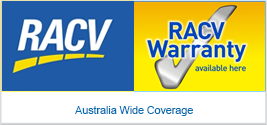 A vehicle is most likely one of the largest purchases you will make. With this in mind, an Extended Warranty is an important consideration to ensure you have the best protection for your vehicle.
Your Next Car is proud to announce our appointment as a provider of RACV Warranty products. These are a cost effective way to safeguard you from unforeseen circumstances for up to 3 years Australia wide. They can also be transferred upon sale of your vehicle.
Contact our Sales Team to discuss which options best suit you.
RACV Warranty Product Brochure